This week marks my three year anniversary of a new life. It's been three years since I arrived in Roatan, Honduras. It's been three years since I met my Irish-Colombian on West Bay Beach. It's been three years since we moved in together. It's been three years since we went to the gas station and came home with a little furball. All that happened in just over a week! It's been three years of life well lived, love fearlessly shared, and so many incredible adventures. Here's to looking back and to moving forward.
This anniversary looks very different from our previous anniversaries. Our first was spent in Roatan after our first whirlwind epic adventure visiting four countries and – as my poor shell-shocked boyfriend claimed – football teams worth of my family members and friends.
We had just returned home to our beach and rainy season welcomed us as work turned frenetic. Tourism picks up around the holidays in Roatan, making Christmas one of the busiest work days of the year. We were busy and time swept past us so quickly.
Our second anniversary was similar – we had recently returned from another adventure visiting my family and his, taking a side trip to Portugal and enjoying quality family time. We returned to Roatan only to quickly contract dengue fever…and it was a horrible welcome home. But then we got back into the swing of things and I finally made the leap to freelance writing full-time. It was one of the best decisions I've ever made.
Our third anniversary looks incredibly different. Here's why…
This year, we made some big decisions.
First, we decided we wanted to spend more time with our families. We are both very close with our parents and siblings, making living on an island far away very difficult. Video chats and texting are wonderful to keep in touch, but nothing can replace a hug and just sitting in a room together laughing and chatting. With flights from Roatan to the UK being very expensive, we had trouble visiting our family there. We decided we wanted to prioritize our families.
Second, we decided we wanted more regular schedules. The Irish-Colombian worked 6 or 7 days a week as a scuba instructor. It is physically and mentally draining – especially given the variety of personalities he encountered with endless streams of tourists coming to the island. Days off were random and usually necessitated a full day of relaxing to be ready to start again. After three years of that kind of schedule, with no regular days off for us to even plan a day of fun adventuring together, we decided we wanted that option.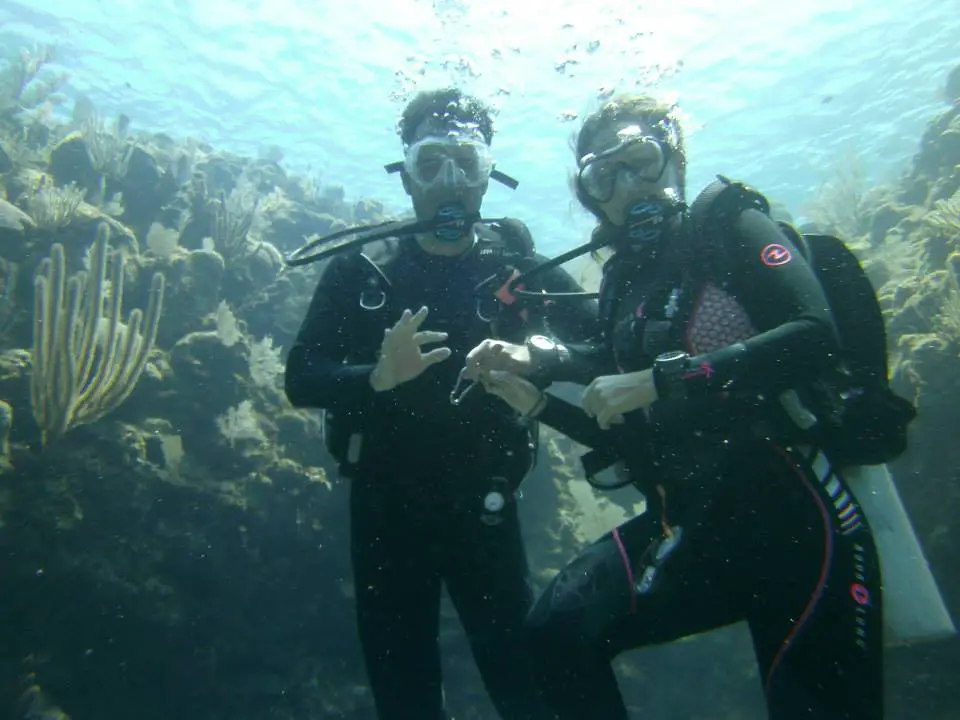 Third, we decided to get married! As it turns out, getting married with two different passports is challenging and actually incredibly annoying. Getting married in Honduras wasn't an option, so we had to head elsewhere.
So, today, I'm writing this anniversary post from another country on another continent with another year of adventures planned. We enjoyed a few months of quality time with my family, and we will be enjoying the full holiday season with his. He hasn't spent a Christmas with his family in four years – it's finally time!
We are living slowly and purposefully. We are just being happy. We have no idea what's next for us, but we will absolutely enjoy discovering it along the way.
Every once in a while, you need to step back and reevaluate your life. Are you happy? Are you living life the way you want to live it? Are you loving your life?
We could answer yes to each of those questions in Roatan. We absolutely love the island, the people, the lifestyle. We will probably be back someday.
But for right now, we want to be with our families and to find better balance in our days. He needs to give his body a break and we want to take advantage of incredibly cheap travel in Europe. I recently bought a round-trip flight from Edinburgh to London for $43. That wouldn't have paid for just the round-trip ferry to the Honduran mainland from Roatan – forget about traveling across borders!
We will be back to Roatan someday. We don't know when, but then again, we didn't predict our lives there in the first place. We both ended up in Roatan by accident – he intended on a 6-week Divemaster course while I intended on 5 days relaxing on the beach. Three years later, our itchy feet started dancing and we wondered where else we could explore.
We love Roatan. We miss it already. But we know we could go back someday, too. The beach will always be there, and the palm trees will always sway; the birds will sing to us whenever we return, and the sunsets will still be glorious.
In the meantime, the end of year three sees us slowing down even beyond Island Time. We've left with new perspectives on life and on our own lifestyles. We've left with new plans and new goals.
Roatan forever changed us and we will forever be grateful…but for now, the world is calling. There are places to go and people to meet. There are stories to tell and places to explore.
I'm sure the post a year from now will be filled with more updates and bigger changes…and I will thoroughly enjoy living them in real time! For now, we will continue to live love and travel for yet another year in our own version of paradise.
---
If you want to find out what's next for us, sign up for my weekly newsletter! Enter your name and email address into any of the subscription boxes.
Connect with me on Facebook for more regular updates, and I'm also on Twitter, Instagram, and Pinterest. Let's be friends!